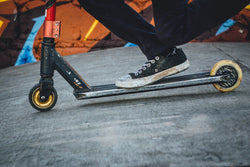 Innovation Safari
Future of Mobility - 2 hours
Envision how consumers and technology may disrupt the current ways of commuting and generate an understanding of the impact on one's business in a three to five years timeframe.
The brief Safari activity will consist of an outdoor observation of 2 hours with an innovation expert consisting of:
VISIT TWO KEY INNOVATION HOTSPOTS OUTDOOR
REFLECTION ACTIVITIES TO GENERATE OWN INSIGHTS ON THE IMPACT ON YOUR BUSINESS AREA
WHY BARCELONA?
Barcelona is in the top 5 of European cities with more startups and the top 3 city of European tech talent and research centers. (T)
WHY SHOULD I TAKE THE BRIEF SAFARI?
We have prepared this condensed Safari format of 2 hours in case you are in a hurry and need to take a sneak peek of the future of your industry by experiencing a leading city in this field.
We created the Innovation Safari format because we believe that change doesn't happen in front of a screen and neither as part of the routine at the office.
Change comes from outside the organizations without previous notice. Without any signal in the management dashboards.
We prepare the safaris with great attention to detail to help you to deliver a unique experience for you and your:
   -Senior executives who want to spot the innovation strengths of the city
   -Customers with whom you want to break the routine or co-innovate 
   -Investors which want to spot key startups 
   -Employees which are required to chang their short term focus for a mid-long term perspective of one day
SAMPLE AGENDA
The final agenda will be sent to you the week before the event since it greatly depends on the specific day of the week, the theme, weather, and size of the team.
Just as an example, see below a potential agenda: 
 
 
Sample Activities
14:30
0:10
Start of the visit
14:40
0:10
Future of Mobility
14:50
0:10
Future Materials for Powering the Smart City
15:00
0:10
Future Urbanism for Unattended Deliveries
15:10
0:10
15:20
0:10
Future Materials for Unattended Deliveries
15:30
0:10
Powering Needs in the Future of Mobility
15:40
0:10
15:50
0:10
Wrap Up and End of The Visit
 
 
WHAT CAN I EXPECT?
With this one day format you will get:
EXPERIENCE ABOUT TECH & TRENDS TO HELP YOU ENVISION THE OPPORTUNITIES AND THREADS IN THE FUTURE OF YOUR INDUSTRY
REFLECT ON THE SPOT TO GENERATE HIGH LEVEL INSIGHTS 
RECEIVE ADVICE TO CONNECT WITH POTENTIAL PARTNERS
I'M INTERESTED, HOW TO PROCEED?
Order as many units of this item as people are coming with you.
For individual professionals: we accept the usual payment methods with VISA, MASTER, AMEX cards.
For corporate customers: we have also a custom payment via a contract model which consist in evaluating a potential yearly contract with your procurement department, however, bear in mind that the process might take some weeks and the final outcome is not assured and the reservation could be cancelled.